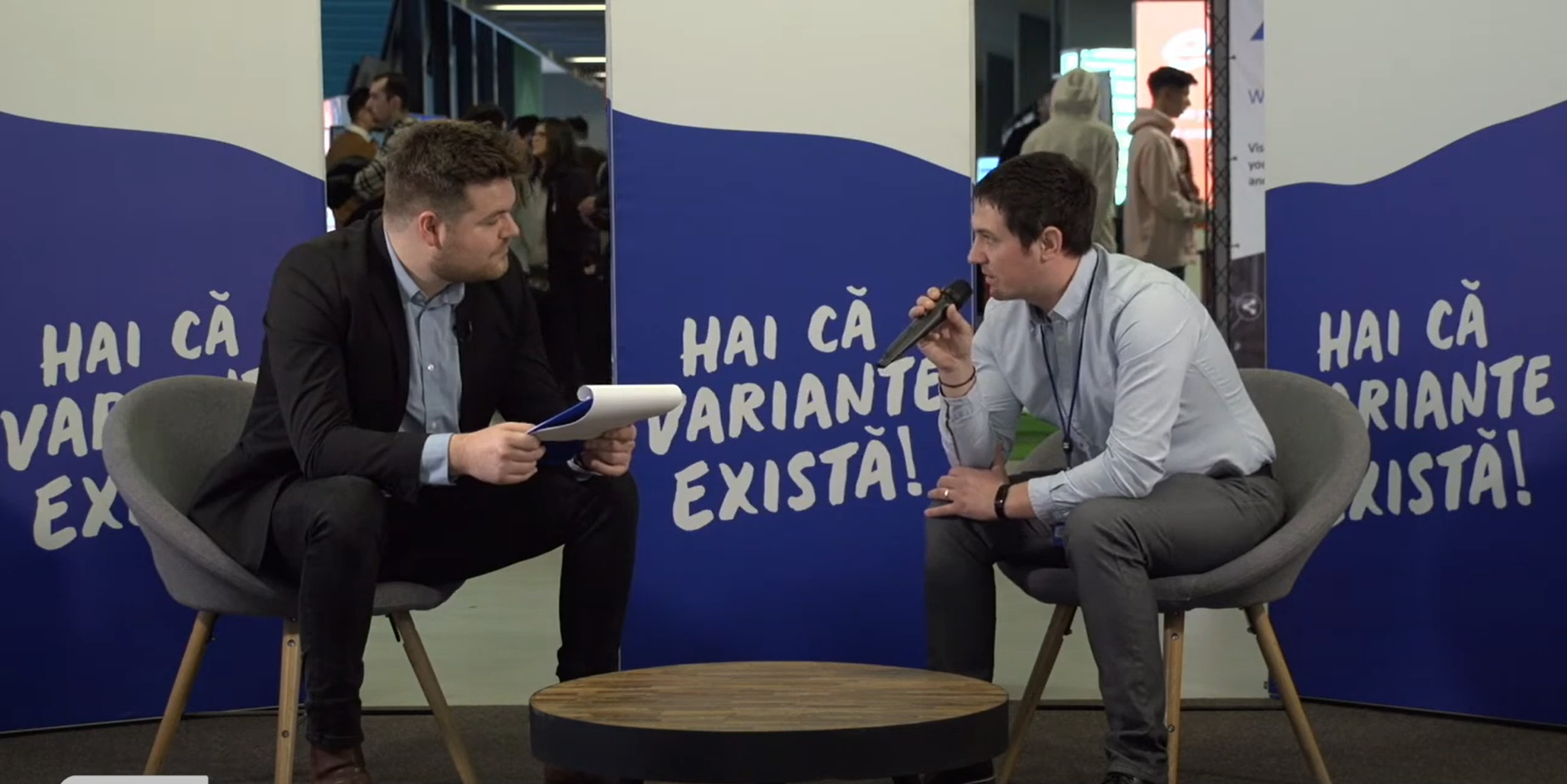 Meet ARRK Research & Development @Târgul de Cariere Cluj-Napoca
ARRK R&D on Tour - our colleagues represented the company at the career fair Târgul de Cariere in Cluj. An interview with our team leader Sorin-Ionut Székely was also part.
Here you find an extract of the interview in English language.
We make ideas happen. What is beyond this slogan? Can you tell us a few things about ARRK Research & Development and the Romanian branch?
We translate customers' wishes into reality through our end-to-end engineering support with a comprehensive range of services.
ARRK is a multinational company founded in 1968 in Japan (roots already go back to 1948). ARRK Engineering was founded in 1967 in Germany and ARRK Research & Development was opened in 2007 in Cluj-Napoca.
In Romania, it started with a small office in Tetarom Park, then it grew, reaching today over 340 employees and a 5-storey office in the ICPIAF building.
How would you describe the ARRK work environment in five words?
Modern, dynamic, interactive, pleasant, safe.
You have collaborations with technical universities. What do they consist of?
Yes, we offer students the opportunity to do internships at ARRK and the opportunity to hire even during college.
ARRK Research & Development. How does ARRK invest in employee development?
From the beginning, ARRK offers new employees trainings for the programs they will work with, we offer them a tutor and the possibility of e-learning (online trainings that they can do individually) but also trainings made by external companies. An example is communication training.
You have been with ARRK for 10 years. What are you doing now and if you were to do an analysis of these years in the company, how would you describe your professional career?
In the summer, I will have 10 years in the company. I am currently the team leader of a team of 12 people. At the beginning I did development on the passive safety side and at the moment I divide my time between topics of engineers and TL. There is always something new and interesting in our work.
What is the biggest challenge in your position?
At the moment, the biggest challenge is to make my teammates happy and at the same time to complete the projects.
How do you see the field in which you work, in a few years?
It is a dynamic field that is constantly changing, but I am sure that over the years it will be an interesting and pleasant field. There is a strong focus on electric cars; the cars of the future will be more and more secure.
I saw that you worked in sales for almost 3 years. How did this experience help you in what followed?
This experience was useful because of working with people. There I had the opportunity to meet different situations and types of people, I can say that it was a preparation (a help) for the Team Leader position.
The testing part involves continuous improvement. How does that reflect beyond the job you have?
Indeed, the testing and development part involves continuous improvement, and new situations that you have never encountered before are not boring. You always have to grow professionally, keep up with new technologies and stay competitive.
In which departments are you looking for colleagues? What do you expect from candidates for the Career Fair?
We currently have positions available in several departments. At Crash, where I work, we need Junior simulation engineers and experienced Testing engineers.
We also expand the teams of CAD, Model Creation, Electronics & Software, Optical Systems and Digitalization & Software. As expectations from candidates would be: to have good technical knowledge, to be motivated, to be open to learn new things and to adapt quickly.